HFL Education's experienced and highly trained computing and EdTech advisers can help your teaching staff to delivery confident and engaging content within the primary computing curriculum.
Computing is now a core part of the KS1 and KS2 curriculum and a compulsory subject for children across their primary education from Year 1 to Year 6 , but many teachers lack specialist knowledge and confidence around the computing curriculum.
Luckily, our specialist advisers can offer high-quality, up to date and bespoke computing training, consultancy and guidance that will allow your staff to create dynamic and vibrant learning experiences.
Common challenges facing computing in primary schools
A lack of confidence among teachers in their own computing knowledge and understanding is a common issue when it comes to delivering lesson content around the computing curriculum.
Many schools also require support in understanding how to:
Build the foundations of computing in younger children in the EYFS
Identifying which primary computing scheme of work to follow
Understand which computing resources are best suited to delivering the KS1 and KS2 curriculum
Provide help and support for the school's computing subject leader
---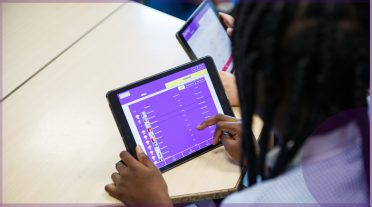 How HFL can support primary computing in your school
When it comes to KS1 and KS2 computing and the use of education technology across the curriculum, we have a wealth of experience in helping schools to meet the challenges you face and delivering the subject of primary computing to a consistently higher standard.
We do this through:
A comprehensive understanding of the programme of study for primary computing.

Monitoring, review and support of computing across the school, including a curriculum review

Tailored and bespoke training for teachers on computing subject knowledge

Strategic planning for senior leaders and governors

Whole school computing needs analysis

Practical subject leader support
Essential support for computing and technology in primary settings and computing across the curriculum

CPD courses and termly subject leader update webinars

The application of new and emerging technologies in the classroom

The innovative and creative use of IT across the curriculum

Advice and support from certified Apple Distinguished Educators and Google for Education and Microsoft Trainers
Why work with HFL Education?
When you work with our expert computing and EdTech specialists you get more than just a trusted adviser helping you to navigate the primary computing curriculum.
By helping to foster greater computing subject knowledge in your teaching staff, you'll benefit from confident teachers, better subject leadership, the latest subject developments, and the confidence that you have exactly the right computing resources in place.
And with access to HFL's entire catalogue of services, you'll also have the option of enjoying the benefits that our joined-up, holistic approach brings to your delivery of the computing curriculum.
---
Find out more
If you'd like to know more about how HFL's Primary Computing and EdTech advisers can help you please contact us. Contact us today to find out how we can help you.