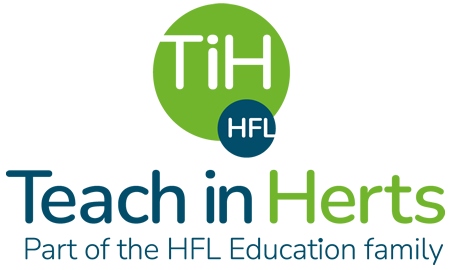 The recruitment of teaching and support staff is one of the biggest challenges facing UK schools, settings and trusts today and finding staff can be a daunting task. 
At HFL Education, we understand the unique challenges faced by the education sector and we're proud of the work we do with our Teach in Herts platform in streamlining the entire hiring journey, making it efficient, effective, and stress-free.
With a clear focus on service excellence and a commitment to finding the very best talent on the market, Teach in Herts is a trusted recruitment platform for over 700 Hertfordshire schools, settings and trusts. Why use Teach in Herts to fill your next vacancy?
We fill around 10,00 vacancies a year
Over the course of each year Teach in Herts lists and helps to fill around 10,000 vacancies within a variety of teaching, leadership, Early Years and support areas.
Stand out from the crowd
Schools often find themselves in fierce competition to secure the best candidates. Teach in Herts provides you with the tools to stand out from the crowd and attract top talent to your school.  Our user-friendly platform allows you to post vacancies, review applications, and schedule interviews seamlessly, saving you time and effort.
Well established platform
Whether you're looking for teaching staff, filling a key leadership role, or in need of the very best support staff, our well established Teach in Herts platform and our extensive knowledge and expertise will ensure you get exactly the right person to fit your needs.
Great feedback from our customers
The feedback we receive from our customers consistently shows the high value of the advice and guidance we provide throughout the recruitment and selection process – particularly in the vital areas of equality, diversity and inclusion (EDI).
High visitor numbers
With a strong, established brand identity and 50,000 monthly visitors, Teach in Herts is now one of the most widely used platforms for employers and candidates in the UK education sector.
Our Teach in Herts Service
We have a proven track record of exceptional service and support, and we're proud to offer comprehensive practical advice and help.
With a Teach in Herts annual subscription, you'll get access to every possible resource  needed to appoint the best candidate for your teaching or support role, including:
Access to a unique, custom-built, self-service portal for each school or setting

The ability to upload images, information, documents and links to showcase your school/setting 

Freedom to post and manage unlimited vacancies on the Teach in Herts website

Ability to automatically anonymise applications for shortlisting, ensuring a fair and transparent recruitment process
With the ability to provide much-needed support around the management of applications, easy-to-use candidate feedback tools and an online application process that is GDPR and safer recruitment compliant, Teach in Herts is one of the UK's most cost-effective, proven and trusted school recruitment services available.
Unlike other recruitment platforms, we offer you unlimited access to, and use of the Teach in Herts website, as well as unlimited vacancy posting.
Additional advertising and recruitment opportunities
Social media promotion
Boost any hard-to-fill vacancies through optional targeted social media promotion on Twitter, Facebook, Instagram and LinkedIn. In spring 2023, on average those schools utilising the HFL social media targeting service more than doubled the reach of their job adverts, compared with those that did not.
TES advertising
We can also offer additional advertising via TES.
Recruitment events
We organise and attend numerous webinars and events at universities and colleges around the UK, meeting students and talking to them about the opportunities that exist within schools, trusts and settings.
Our free annual Teach in Herts recruitment fair is available to any school or setting advertising on Teach in Herts and offers a great opportunity to meet prospective applicants face to face.
---
Find out more
Read our blog Teach in Herts – Offering flexible, term time work for a better work/life balance
If you would like to know more about how Teach in Herts can help you to attract and appoint the best teaching and support staff on the market, please contact us. Contact the Recruitment Services team today to find out how we can help you.