Herts Voices is an inspirational volunteer speakers programme which connects schools in the county with speakers from racially diverse backgrounds, all of whom have connections with Hertfordshire.
Our speakers deliver inspiring talks for primary and secondary schools that are trying to increase racial diversity within their setting and hear from a wider range of people with diverse lived experiences.
The programme is provided courtesy of HFL Education.
What is Herts Voices?
Herts Voices was launched with an inspiring speech and Q&A session for a Year 9-13 audience from young business entrepreneur Tim Armoo at Marriott's Secondary School, Stevenage, in October 2022. The winner of the coveted Entrepreneur of the Year 2020 award at the Tech Achievement Awards, Tim talked about the power of motivation and commitment in the face of adversity.
Since then, Herts Voices has worked with 20 schools, reached more than 1000 young people, and recruited speakers with local links from a rich variety of social and cultural backgrounds.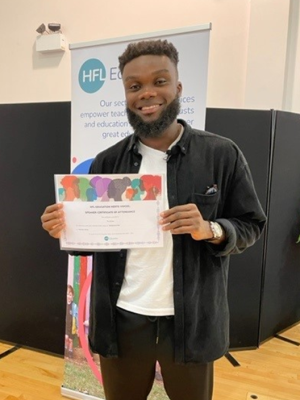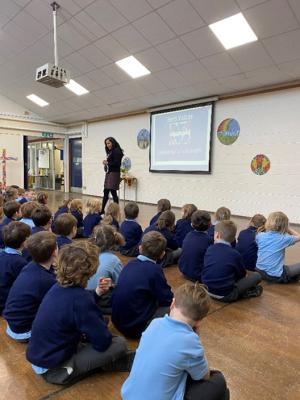 What does the Herts Voices programme involve?
Our programme is ideally suited to pupils across all primary and secondary school years, from Year 1 to Year 13, and delivered by a speaker who has been carefully selected to meet the specific needs, interests, aims and requirements of the school in question.
Each talk lasts for between 30 and 60 minutes and is delivered at a suitable time for pupils and staff.
All our speakers are from Black, Asian and minority ethnic groups and are all notable for their achievements in life and for their ability to deliver powerful, motivational content that  educates and inspires.
They are committed to the HFL Education programme and participate fully in our selection and safeguarding processes.
What is expected of us as a school?
All our participating schools are expected to complete a registration form process, build a relationship with their speaker and, in collaboration with Herts Voices, coordinate arrangements for the talk. What are the benefits of using the Herts Voices programme?
When you register with Herts Voices and access our programme of talks and speakers, you and your pupils will benefit from hearing about the experiences of people from a variety of diverse racial and cultural backgrounds who have achieved notable successes – often in the face of adversity or lack of opportunity.
Their stories and powerful messages act as reinforcement of positive messaging around positive attitude, freedom of choice, and the resilience necessary to fulfil individual potential.
Disclaimer: HFL Education is the largest school company in the UK and operates as a not-for-profit social enterprise. We are a leading provider of school improvement and business support products and services that enable schools, trusts, and educational settings inside and outside of Hertfordshire to deliver a great education. Our work includes providing support for school leaders on sensitive and complex matters relating to meeting the needs of individuals and groups with protected characteristics. All advice and recommendations provided by HFL Education advisers are informed by DfE guidance and statutory regulations, including those regarding political neutrality, bias and curriculum content, whilst also recognising the school's legal responsibilities under the Equality Act 2010.  School leaders will ultimately make the decisions that are appropriate for their school communities. Contact our Wellbeing team today to find out how we can help you.