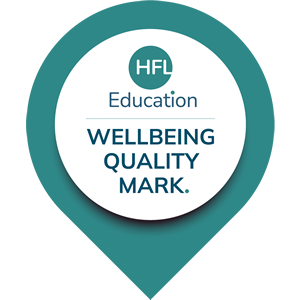 The HFL Education Wellbeing Quality Mark is a comprehensive self-assessment audit tool that allows education leaders to review strategies around wellbeing in schools and to adapt them to meet changing needs.
The HFL Education Wellbeing Quality Mark can be achieved over three or four terms and it allows schools to demonstrate a commitment to improving wellbeing across the entire school community.
How does the HFL Education Wellbeing Quality Mark work?
Over three terms, your school will benefit from ongoing support from a specialist wellbeing adviser while your school leadership teams work through a dedicated audit process that records and assesses existing school wellbeing approaches and examines areas for improvement.
As part of this process, you'll be asked to identify a wellbeing project to be completed during the year.
During the programme, your dedicated HFL Wellbeing adviser will offer both face to face and remote support to review progress and impact, ensuring you get the most out of the process.
Areas covered in the programme include:
Belonging and inclusion

Wellbeing and mental health through the curriculum

Wider wellbeing

Pupil agency
Social and cultural capital for wellbeing

Therapeutic approaches to behaviour and wellbeing

Staff wellbeing

Staff training
Why work with HFL Education to improve school wellbeing?
The HFL Education Wellbeing Quality Mark offers a whole-school strategic approach to promote wellbeing and place it at the heart of school life.
Working with us enables you to identify where you are now in your wellbeing journey, enabling you to identify existing good practice within your school or centre and to set courageous' actions in those areas where development or change is desirable.
Working with your dedicated HFL Education Wellbeing adviser and with access to a wealth of up-to-date research, knowledge and thinking from HFL and our partners, you'll drive wellbeing improvement and add extra value to your setting's wellbeing offer.
---
Find out more
If you'd like to know more about the HFL Education Wellbeing Quality Mark and the benefits it can bring to your school, please contact us. Contact our Wellbeing team today to find out how we can help you.