If you are passionate about driving change in education, join HFL Education and be part of the UK's largest school company operating with a not-for-profit ethos.
HFL is an awarding winning provider of products and resources to schools and educational settings within Hertfordshire and across the UK.
We believe that every young person across the country should be able to access a great education to achieve their full potential, regardless of their circumstances.
---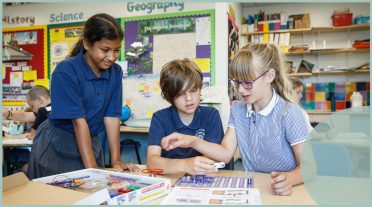 Why work at HFL?
If you want to make a real difference in education, drive improvement, and add value to young people's lives, then you've come to the right place. The same goal drives everyone at HFL; to realise real change in education. To achieve this, we make the development of our staff a key priority in every role and level.
We take immense pride in working closely with schools and trusts to deliver high-quality products, services and training that delivers demonstrable impacts and enables them to deliver high-quality teaching and learning. We are passionate about extending our reach and supporting as many schools as possible. To that end, we partner with organisations that share our values and make a meaningful impact. Passionate about equal opportunities
HFL is committed to being an equal opportunities employer and building an equal, diverse and inclusive work environment. We consider equal treatment of all colleagues a priority and strive to eliminate all forms of discrimination from our organisation. We do not tolerate discrimination based on age, disability, gender, sexual orientation, pregnancy and maternity, race or ethnicity, religion or belief, gender identity, marriage or civil partnership status.
We work hard to eliminate racism from our organisation and promote diversity, equality and inclusion, especially in our recruitment processes. We use an anonymous application process to ensure we always select candidates based on their skills and competencies. When two or more candidates have equal merit, the candidate with protected characteristics will have an advantage over others. This tie-breaker approach is described as positive action in the Equality Act 2010.
If you are invited to interview, please be prepared to discuss unconscious bias with us. These conversations are extremely useful in giving us an idea of what working together will be like.
Benefits and rewards of working with HFL
At HFL, we offer a generous package of benefits and rewards. Our staff receive 28 days annual leave (31 days after five years) plus bank holidays or the equivalent paid for Term Time employees. Staff can benefit from hybrid working, family-friendly policies, paid mileage, discounts offers, a cycle to work scheme and onsite electric vehicle charging points. We also provide access to wellbeing and mental health support, a company performance bonus and professional development opportunities.
At our Stevenage offices, you will also have access to the following:
free and secure onsite underground parking
modern office facilities
onsite restaurant
shower and changing facilities Vacancies at HFL and how to apply
If you want to progress your career with an exciting and diverse organisation making a meaningful difference in educational settings, visit our vacancies pages to learn more about our available opportunities and how you can apply.