Our evidence-based reading intervention sets young readers up for success and supports them in discovering a love of reading and accelerating progress in reading comprehension and stamina.
What is reading fluency?
Reading fluency can be defined as a combination of the skills of automaticity, accuracy and expression. If any of these skills are missing, then we are unable to comprehend what we are reading. Fluency in reading is important for life — through school and beyond, significantly impacting attainment in subject areas across the curriculum and ultimately a child's future opportunities.
Reading fluency for better learning
Successfully adopted by UK-wide institutions since 2017, HFL Education's evidence-based reading intervention sets young readers up for success and supports them in making progress towards reaching age-related expectations. Our reading programmes are designed to accelerate fluency and comprehension in a short space of time.
The transformational teaching strategies are based on a combination of studied and well-evidenced methods.  
Reading fluency matters
The National Literacy Trust estimates that approximately one quarter of children left primary school last year unable to read at the expected standard. A statistic compounded by the pandemic, with research from the University of Bedford showing that reading skills have stalled among young students, with 44% of KS1 students behind expected literacy level.
Gill Jones, Ofsted Deputy Director for Early Education says, "If pupils are not able to read to an age-appropriate level and fluency, they will be incapable of accessing the rest of the curriculum, and they will rapidly fall behind their peers."
HFL Reading Fluency Project CPD and training
Our Reading Fluency Project works to significantly improve outcomes for pupils and is designed to help equip teachers to improve fluency and comprehension in a short space of time, across primary and secondary phases of education. A combination of well-evidenced strategies include:  
modelled expert prosody
repeated re-reading
echo reading
text marking
performance reading
challenging text selection
We have extensive experience in working with schools across the country, multi-academy trusts and English Hubs in implementing and embedding HFL's Reading Fluency Project. Depending on your individual requirements, we have several ways in which you can join, including; one-day courses, 8-week programme, bespoke offerings and follow up support.
(EEF) Education Endowment Foundation and HFL reading fluency resources
We are constantly reviewing and improving our Reading Fluency Project based on new research and programme outcomes. In May 2022, the Education Endowment Foundation (EEF) in collaboration with HFL, published two new tools: Reading Fluency Glossary and Reading Fluency Misconceptions designed to support practitioners in developing their pupils' reading fluency. These have been followed by a third resource 'Reading Fluency Resource' published in the summer term.
--- Compelling outcomes
HFL's Reading Fluency Project has proven its effectiveness. Our statistics show that children's comprehension reading age increases by an average of 2 years and 3 months in just 8 weeks.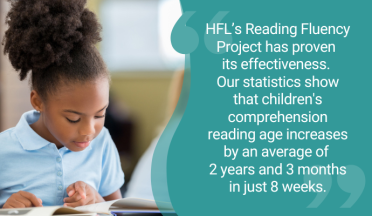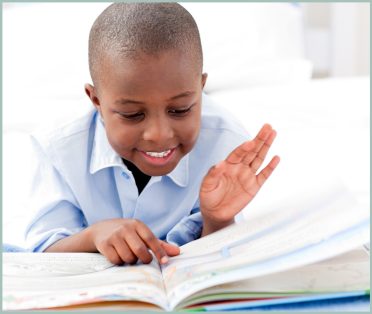 KS1 Programme outcomes:
17 months

progress in reading comprehension age*, including:

76%

of pupils with more than six months of progress

66%

of pupils move up at least one book band and make

11 months

of progress in reading accuracy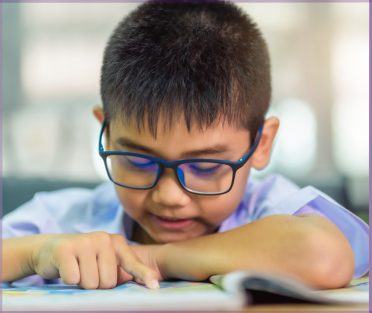 KS2 Programme outcomes (average):
 2 years and 3 months progress in reading comprehension and gain an increase in reading accuracy on 13 months*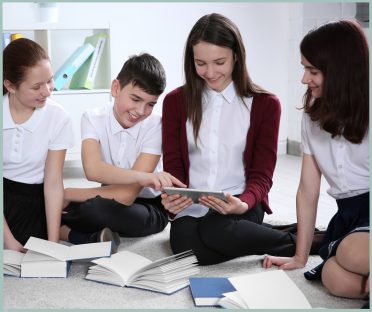 KS3 Programme outcomes (average):
 18 months progress in reading comprehension*
*Statistics based on data collected for over 2000 pupils using the York Assessment of Reading for Comprehension.
Early Years programme
We have created the 'Succeeding with Reading' programme to offer English leaders and practitioners the tools they need to review, support and monitor the skill of developing early reading with children in the Early Years Foundation Stage. 75% of schools that participated in the Succeeding with Reading project in 2021 narrowed their FSM gap by 10.7ppts to an average of 19.3% (narrower than national). Learn more about reading fluency
We are keen to share the findings of our work widely in order to benefit as many pupils as possible; we do this through our partnership work with local authorities, English Hubs, school improvement organisations, trusts and schools.
We recognise the vital importance of collaboration and regularly work with world-renowned experts in the field to extend our thinking and inform our work; our EdTalks podcast with Alex Quigley and Sarah Green from the Education Endowment Foundation is an example of how we seek to bring together informed voices. 
We regularly share our latest learnings on reading fluency in our HFL English blogs
--- Contact us today to find out more about the HFL Reading Fluency Project