We are passionate about helping primary schools deliver a great education.
That's why we've designed flexible and bespoke support services that are proven to enhance school effectiveness and improve overall pupil outcomes in reading, writing and mathematics. With our team of subject specialists and educational experts, we can provide all the primary school teaching, learning and improvement services you need.
Services delivered by primary school improvement specialists
We know that excellent standards, great leadership and efficient management are all important aspects of delivering high-quality primary education. With our specially curated school improvement services, we can help you make deliberate and effective changes while supporting your school to achieve sustained improvement.
We offer a wide and varied range of primary school improvement services delivered by our team of education experts. All our services are tailored to you and designed to help improve school performance and raise achievement across Years 1-6.
Expert primary school effectiveness advisers
Our knowledgeable school effectiveness advisers (SEAs) offer bespoke support packages to address your specific improvement needs. Whether you'd benefit from training, attending conferences or consultancy, all our SEAs are successful former headteachers who will utilise their extensive experience to add real value to your school.
Hertfordshire Improvement Partner programme
Our Hertfordshire Improvement Partners (HIPs) are experienced, educational professionals. Acting as critical partners, HIPs challenge and support leadership teams to evaluate performance, identify improvement priorities and guide you through your overall improvement journey.
---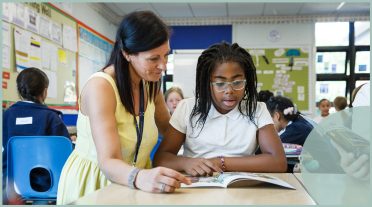 First class primary teaching and learning support services
To achieve high-quality teaching standards and learning outcomes, you'll need the assistance of high-quality support services. That's where our subject specialists and educational experts come in. Our team offers a mix of remote and face-to-face training and consultancy services, promoting successful teaching and learning in primary schools.
KS1-KS2 subject and curriculum support
We know that every school is different, so we've designed a broad range of primary teaching and learning advisory services to meet your individual needs.
Valuable resources for all your primary school needs
Working closely with primary school educators, we've developed a fantastic range of valuable resources, including our ESSENTIALmaths guidance, ESSENTIALspelling resources, detailed English plans and KS1-KS2 reading and writing toolkits.
Get more support with our PA Plus subscription
To complement our comprehensive service offering, we also provide over 450 high-quality resources that support primary school planning, assessment and progress tracking. Gain access to our full suite of primary school resources and materials with our great value PA Plus subscription.
Explore our blogs written by subject specialists
As experts in our field, we also write regular blogs on English, mathematics, assessment, science and computing to keep leaders and teachers up-to-date with current education practice.
---

Our experienced primary advisers can provide you with all the support, skills, knowledge and resources you need to deliver high-quality primary education. Contact us today to find out how we can help you.