Our purpose is to ensure that through access to a great education, every young person can realise their full potential. We believe their education should be free from barriers that are the result of a lack of equality, diversity and inclusion.
Education is key to creating meaningful change and we have a significant role in facilitating that.
---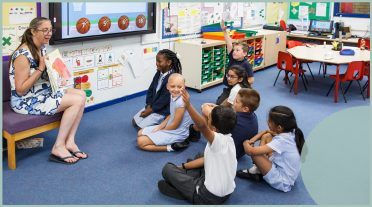 Building an inclusive culture and celebrating diversity
We want HFL to be an inclusive place to work. Our goal is to create opportunities, reduce barriers for everyone, and ensure there is no unjustified discrimination in our recruitment and selection processes, performance management and pay. Equality, diversity and inclusion are values at the core of HFL's processes, practices and culture.
Everyone is responsible for building an inclusive culture. Our executive team, board of directors and colleagues share a passion for creating a positive culture where everyone feels equally included and valued. Since 2021 we have continued to report on our ethnicity and disability pay gaps alongside our gender pay gap reporting. We believe this is crucial in overcoming inequality.
We are committed to attracting and recruiting diverse candidates and building an inclusive workforce that gives everyone an equal voice and reflects the communities we serve.
Recruitment without bias
Our organisation and work are based on developing meaningful, lasting, respectful relationships across different cultures. We can only achieve this with a strong commitment to equality, diversity and inclusion in our recruitment processes. We use an anonymous application method, ensuring we select candidates based on their competencies and skillset. However, should we have more than one candidate with equal merit, the applicant with protected characteristics will have priority per the tie-breaker scenario referred to as 'positive action' in the Equality Act 2010. Eradicating racism
At HFL, we are committed to playing a key role in eradicating racism within our organisation and education. We continue to strive towards achieving this goal by making two key appointments, a dedicated EDI Officer and a Race Equality Adviser. Both these roles help support our increased focus on delivering our internal and school-facing anti-racism agendas.
HFL actively supports Black History Month and Race Equality Month with focused activities around raising awareness and engagement. For 2022 and 2023, we adopted the theme of belonging to reinforce our approach to inclusivity, equality and respect in our company.
For more details see our Anti-racist position statement.
Supporting equality, diversity and inclusion in schools
We are also committed to promoting anti-racism in schools. Our Race Equality Adviser and HFL Wellbeing team work closely with schools to support their equality, diversity and inclusion initiatives.
We deliver staff training and consultation sessions, staff, pupil and parent voice sessions, and masterclasses on anti-racism and race equality for schools and governors. We also provide various digital resources, including a Race Equity Toolkit, anti-racism self-evaluation and a Hate Crime teaching resources for primary and secondary schools.
Committed to closing the gender, ethnicity and disability pay gaps
Pay gaps refer to the difference in pay between different workforce groups. For example, men and women and workers with disabilities and those without.
Our annual pay gap report provides information on pay gaps at HFL between men and women. We also publish our disability and ethnicity pay gaps using the government guidelines for calculating gender pay gaps. We analyse the data and review the context of the figures and we use the information to improve pay gaps at HFL as part of our ongoing commitment to eradicating inequality in our organisation.
---

We are committed to equality, diversity and inclusion in our work with schools, recruitment processes and how we treat our staff. Contact us today to find out how we can help you.