Running a successful school, setting or trust takes strong and effective leadership, talented people, and effective management practice to ensure you deliver exceptional outcomes for pupils and students.
We understand that the success of any educational institution hinges on its people. Our HR Strategic Business Partner Service is designed to align your human resources with your vision, values, and objectives. Senior leaders get strategic help, advice and guidance tailored to their specific individual needs whether it's high-level strategy that is required or more day to day involvement.
Having our HR Business Partner Service to support and advise you, your leadership teams and your staff, gives you the confidence of knowing that you have the right strategy in place at all times.
What is an HR Business Partner?
Your HR Business Partner is an independent and professional expert who works closely with your Senior Leadership Team to offer external support in identifying, developing, and implementing strategic HR management plans that are designed to meet your core objectives.
We believe that one size does not fit all.  By gaining a detailed understanding of your school, setting or trust, its challenges and its aims, your HR Business Partner will help you create bespoke strategies and develop people plans and practice  to address your specific needs. Whether it's recruitment and retention, performance management, or employee development, we've got you covered!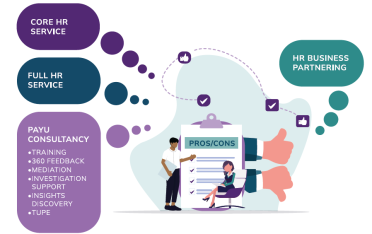 How does HFL's HR Business Partner service work?
Our HR Business Partners will work with you and your senior leaders to critically evaluate current practice, build your people capability, plan, manage talent, and develop approaches that achieve your agreed objectives.
We can offer support and guidance in person and on-site, or remotely, depending on your specific needs, ensuring you get the right support in the way that works best for you and your teams.
We will:
Take the time to get to know and understand how your school or trust operates, how it creates value, its strategic drivers and its purpose
Critically evaluate, influence, and develop the appropriate people solutions to help you achieve your objectives and vision
Foster and nurture the processes and systems that promote and celebrate talent, leadership, learning and culture
Generate and share insight from data and evidence – using and applying evidence to support business cases or strategies
Lead with integrity, consideration and challenge the organisation and its leaders
Why use HFL's Business Partner Service?
Our team of HR professionals comes with extensive experience in the education industry. We understand the nuances, challenges, and regulatory requirements that educational institutions face, enabling us to provide targeted and effective solutions.
Our bespoke HRBP service is delivered by a dedicated HR business partner who will be your primary point of contact across the school or trust.
We don't just act as consultants.  We work as close or as distant as you see fit, collaborating with your leadership team to empower them with the knowledge and tools they need to lead effectively.
This service is aimed specifically at senior trust and school leadership teams, and provides proactive, pragmatic, and flexible HR solutions to meet a comprehensive range of people-related issues.
The benefits of using HFL's HR Business Partner service include:
Honest and transparent skills - and knowledge-based guidance to support strategic decisions within your school or trust

Practical help and guidance in the way that works best for you and your teams

Bespoke advice and support that is informed by the challenges that are specific to your school or trust and designed to meet and resolve them

Fair, transparent pricing that reflects our belief that as much funding as possible should go into frontline education

Greater efficiency – our exceptional service means we save you time and money, ensuring you have more of both to do the important stuff Contact our HR Services team today to find out how we can help you.