At HFL Education we provide a wide range of practical support for your secondary school improvement planning, helping you to successfully improve school effectiveness and performance.
Our expertise and extensive experience can be particularly useful in supporting you through Ofsted and quality assurance processes, with bespoke advice and guidance that's tailored to your school and helps your leadership team to deliver results where they really matter.
Common issues facing secondary schools around school effectiveness
Often, leadership teams and governing bodies find it hard to find strategic solutions that meet their unique needs and challenges.
And even when you have the right school improvement plan, it can often be a challenge for schools to provide the right support across the board to meet the differing needs of heads, senior leaders, middle leaders, teachers, staff in general, governors and trustees.
How we can help you with your secondary school improvement planning
We are a large team of experts who have senior school leadership experience, expert knowledge of the Ofsted Education Inspection Framework (EIF), and an outstanding track record of supporting staff to effect positive change with demonstrable impact.
We carefully match you and your school with a School Effectiveness Adviser best suited to your individual needs, offering you a critical, professional friend who understands the demands and challenges you face and has the skills and experience to help you meet them.
With high quality, tailored advice and guidance, delivered face to face or remotely and designed to create an effective school improvement plan, our support helps you to bring about consistently successful outcomes. Our secondary school improvement services
We provide a mixture of targeted school improvement services to meet your existing and future needs, ranging from strategic planning activities and training for key leaders through to full quality assurance reviews. 
These include:
Autumn visit (quality assurance health check)

External advisory support for headteacher performance management

SEF and/or SDP/AIP support

Curriculum exploration activities (based on the EIF deep dive methodology)

Strategic planning, including a review of curriculum planning to address legacy post-pandemic disruption to learning
Support for senior and middle leaders around effective planning and interventions

Ofsted preparation support (including middle leader and/or governor training and support for maintaining an outstanding grading)

Coaching support for leaders in preparation for inspection or school review

Senior leadership/middle leadership/ whole staff training on identified needs
We also offer bespoke reviews focused on key areas of school provision. These include:
 
Leadership and management
Safeguarding (including addressing Everyone's Invited and harmful sexual behaviour)
Early reading
Race equality
SEND and vulnerable learners
Pupil Premium and Catch Up Premium
Post 16
Quality of Education Review
School website
Wellbeing and Behaviour Reviews
---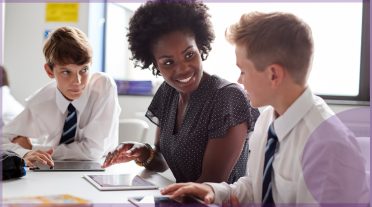 Why work with HFL Education?
Our school improvement support is designed to achieve maximum impact and measurable success.
We are confident that when you work with us you will benefit from a greater understanding on the success levers needed to achieve improvements across the entirety of your school setting, from school leadership and teaching performance to curriculum delivery.
We provide clear advice and guidance in written reports and verbal feedback, combined with suggestions of good practice.
Our Secondary School Effectiveness advisory service will help you to deliver a more effective school improvement plan and create a clear vision and roadmap for your future success.
---
Find out more
If you'd like to know more about how HFL's Secondary School Effectiveness advisory service can help you to drive ongoing improvement within your school and be better prepared for Ofsted assessment, please contact us. Contact us today to find out how we can help you.