At HFL Education we are committed to helping the schools and settings we work with to offer the very highest standards of pupil safeguarding both at school and in the home.
As part of our suite of wellbeing support services, our online safety training, consultancy, and guidance is designed to ensure you and your teaching teams have the skills and knowledge to be able to provide a safe and positive digital experience for every pupil wherever they are.
Our team of highly trained wellbeing advisers pride themselves on providing exceptional standards of bespoke training and advice to support this crucial aspect of safeguarding and teaching. How does HFL support schools and settings in encouraging safety online?
We recognise that creating safe digital experiences for young people is a shared responsibility for schools, parents and carers, and so our support services are designed to help everyone.
School staff training
Online safety sessions for school staff highlighting the changing issues facing children and adults online and enabling staff to provide appropriate teaching that equips children with knowledge and skills to stay safe.
Parent and carer online safety training
This session promotes healthy and safe online activity and recognises the benefits of the internet for young people alongside its risks. Strategies are shared to help parents support their child's online activity without limiting learning opportunities and experiences.
Our online safety training and consultancy also supports schools to integrate digital safety into the PSHE and RSHE curriculum.
Telephone and remote support
We are also available to provide telephone and remote digital support for any schools, academy trusts or other settings who need advice or guidance in the event of concerns over a specific online safeguarding incident.
Termly online safety newsletter
We provide a termly online safety newsletter highlighting the latest advice and resources.
What are the benefits of working with HFL to improve online safety training in your school or setting?
The online safety training, consultancy and guidance service offered by our expert team of advisers ensures that school staff, parents and carers are equally informed about the latest issues and trends in online use.
This ensures consistent, well-informed messaging both at school and at home to provide students with the relevant knowledge about how to reduce risk and keep themselves safe when they're online.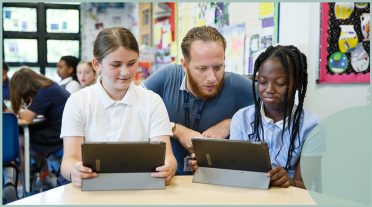 ---
Find out more
If you'd like to know more about how HFL's online safety training, consultancy and guidance can help you to ensure you have robust safeguarding measures in place, please contact us. Contact our Wellbeing team today to find out how we can help you.