Whether you're looking to improve student outcomes at GCSE and A-level English in your school, develop your subject leaders, or simply find training for secondary English, our specialist advisory team can help.
We work in partnership with schools and academies across mainstream and special schools to offer support that's tailored to meet the specific needs of individual secondary schools and settings. We provide specialist training and consultancy services to help schools and academies improve the quality of their KS3-5 English provision.
Our secondary English experts have a wealth of experience in teaching and middle management in secondary schools; as well as in cross phase work with the HFL Education assessment and primary English teams.
Whatever your needs may be, our advisers will work with you to identify what you really need and get the right outcomes for your students. What's included in your tailored secondary English support?
We maintain strong links with a wide range of schools, academies, MATs and other partners that make us well placed to provide support that is tailored to meet the individual and unique needs of schools at department, individual class teacher and student level.
Our In-school English support includes:
English curriculum review, planning and resourcing (KS3, KS4, KS5)

English department review

Middle leadership training, support and coaching

Support for individual teachers to develop their practice

Standardisation of trial examination marking

Training to improve student outcomes at GCSE and A-levels

Examination 'countdown' planning to maximise progress at GCSE and A-level
Standardisation of moderation of GCSE and A-level (all exam boards)

Effective support for transition and intervention (KS2-3)

Teaching and learning strategies to support creative writing/persuasive writing

Student facing support: Walking Talking mocks; small group learning; exam feedback and 1 to 1 conferencing

Whole school reading reviews and staff training
Training and conferences
In addition to the support outlined above, we also run a number of other events and conferences, including:
Heads of English conferences (winter and summer)
Autumn English updates webinar
English subject specific training (e.g., improving writing, developing subject pedagogy)
To see the latest training available and book, please visit the HFL Education Hub
---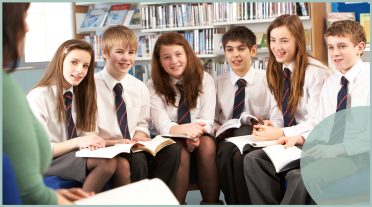 AQA GCSE English Literature online revision masterclasses for students
Designed to motivate and challenge students in an engaging, focused and active learning environment, our remote revision masterclasses for AQA GCSE English Literature are led by subject experts with a wealth of experience in providing additional support.
Sessions are delivered on Saturday mornings between 9.30-11.30am in the spring term and include sessions on:
Macbeth
Romeo and Juliet
A Christmas Carol
An Inspector Calls
Power and Conflict Poetry
Love and Relationships Poetry
Unseen Poetry
Key Stage 3 (KS3) and Key Stage 4 (KS4) Reading Fluency Projects
The KS3 and KS4 Reading Fluency Projects are online CPD packages for English leads and teachers.
Project participation supports struggling readers in Key Stage 3  and 4 to make swift and dramatic gains in their reading attainment. Through the combined use of evidence-informed reading strategies and high-quality texts, the KS3 and KS4 Reading Fluency Projects not only increases the number of students working at age-related expectations in reading, but fosters enthusiastic, confident readers who show increased pleasure and skill when reading challenging texts across the curriculum. A bespoke secondary English consultancy and support package to raise attainment at KS4 and KS5 in English – a case study
We design our support around your specific and unique needs.
An example of this can be seen in our recent work to support an academy in improving English attainment levels at KS4 and KS5. To do that we worked collaboratively with the English Department to identify their priority areas for support.
We were able to provide staff training on the application of mark schemes based on the latest exam board advice and exemplifications, in order to ensure consistency and accuracy of assessment in KS4 and KS5 English.
To supplement that training and in addition to providing appropriate resources for use in lessons, we also moderated the marking of trial exam papers at GCSE and A level NEA (non-examined assessment) and provided 'gaps' analysis to inform tracking and intervention.
To further support students and staff, our advisers taught classes of targeted students, including students in receipt of pupil premium funding, in small groups and also provided one-to-one student conferencing to help students secure the skills and knowledge needed to make progress.
Members of the department were often actively involved in lessons as a way of developing their own teaching and learning skills and building capacity.
---
Find out more
If you'd like to know more about how HFL's Secondary English advisers can support your subject leaders through cost-effective expert advice and guidance that's tailored to your exact needs, please contact us. Contact us today to find out how we can help you.