Supporting and challenging your leaders and teachers to drive secondary improvement and achievement.
Flexible and bespoke school improvement and consultancy services to secondary schools enabling you to deliver high-quality teaching and learning experiences. We have a proven track record of supporting, promoting, and achieving improvement in secondary schools and academies.
Empowering secondary school improvement
Every school and academy headteacher and leader strives to deliver a first-class learning experience while managing the complexities and challenges of running an educational setting. That's why we've developed our services to be flexible to help schools and academies like yours develop their staff, leadership, and curriculum to achieve sustainable improvements.
Our services are designed to cover all areas of improvement, including the delivery of the core academic subjects, curriculum design, high-quality teaching, leadership effectiveness, data best practices, and self-evaluation.
Why choose HFL?
Our goal is to ensure that all schools can achieve the highest possible educational outcomes for every pupil. We achieve this through working with schools and academies to improve educational opportunities and academic outcomes and support the development of outstanding teachers. A combination of challenge and support is offered, with the ultimate aim of ensuring every school and academy is able to sustain improvement.
Our Secondary School Effectiveness Advisers (SEAs) are available to work with your school or academy to provide tailored support to your leadership team to help you monitor and evaluate performance and school effectiveness. They have an exceptional track record of achieving rapid school improvement even in the most challenging situations. They also receive regular safeguarding and risk assessment training to ensure they deliver the most up-to-date and quality advice and support.
---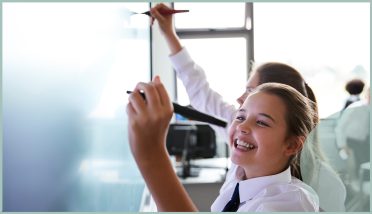 First class secondary teaching and learning support services
To achieve high-quality teaching standards and learning outcomes, you'll need the assistance of high-quality support services. That's where our subject specialists and educational experts come in. Our team offers a mix of remote and face-to-face training and consultancy services, promoting successful teaching and learning in secondary schools.
KS3-KS5 subject and curriculum support
We know that every school is different, so we've designed a broad range of secondary teaching and learning advisory services to meet your individual needs.
Graded GCSE mathematics revision workbooks for students
Our popular GCSE revision guides are designed to encourage students to make the best use of revision time and have been written to go alongside students' work and revision in school. They work well with any of the exam board GCSE (9-1) specifications and can be used in the classroom and / or at home.The topics selected appear frequently in GCSE papers - students who work carefully and successfully through a workbook will have a good chance of achieving the target grade for that book. 
---

Our team of secondary advisers are experienced in the challenges and complexities of delivering a quality secondary education and can help your school or academy reach its full potential. Contact us today to find out how we can help you