We are passionate about helping the youngest children get a great start to their education.
We know that Early Years education provides those all-important building blocks for children's lifelong learning and educational achievement. That's why we provide dedicated improvement services focused on Early Years education.
Why choose HFL?
We understand that there are distinct demands on Early Years education and that every school and setting is different. That's why we offer customised improvement services, consultancy, training and continual professional development (CPD) for Early Years leaders and practitioners, including those in private, voluntary and independent (PVI) settings.
Whether you're a leader, teacher, or Early Years practitioner our team of Early Years experts can provide tailored advice and guidance to help you achieve the best outcomes for your children possible.
---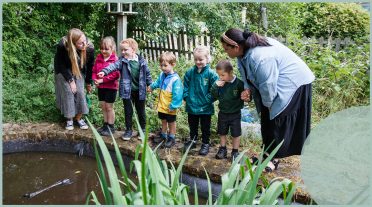 Early Years services and support
Our Early Years services cover a wide range of needs and are designed to ensure your educational setting runs as efficiently as possible so that you can best support your children.
Training and development opportunities
We also provide a wide range of face-to-face, remote and eLearning training courses and development opportunities to complement our service offering.
National conferences
We host our own Early Years national conferences, offering great opportunities to learn, connect with other professionals and hear from high-calibre speakers.
Bespoke training delivered in a way that suits you
We provide flexible face-to-face and remote training that can be delivered in a way that best suits you, whether that's INSET days with all staff or training on another day targeted at a specific group.
Upskill with our Early Years Foundation Stage course
Our user-friendly interactive online course provides all the essential knowledge and skills needed for the Early Years Foundation Stage (EYFS). Designed by educational specialists, our course modules are drawn from the Early Years Foundation Stage Statutory Framework and Ofsted requirements and let you learn at your own pace. Valuable resources for all your Early Years needs
Working closely with the Early Years sector, we've developed many useful resources aligned with the EYFS statutory framework requirements. Take a look at our award-winning Places to Play Every Day guidance and audit and our package of Early Years support materials, including:
Explore our blogs written by Early Years specialists
As experts in our field, we also write regular blogs on Early Years education to share good practice and new developments in the EYFS.
---

Our early-year advisers have all the experience, skills and resources you need to deliver the best start to a child's education and the building blocks to help them become lifelong learners. Contact us today to find out how we can help you.