Our Early Years safeguarding audit offers you the opportunity to review the key policies and practices you have in place to meet the legal requirements for keeping children safe.
Who is the Safeguarding Audit for?
This specialist audit is ideal for schools and PVI settings that want to ensure their existing safeguarding protocols are embedded and effective, and to understand what steps they need to take if their current measures require strengthening.
What does the Safeguarding Audit include?
The half-day audit will check your current safeguarding arrangements are compliant with the Early Years Foundation Stage (EYFS) safeguarding and welfare requirements.
The visit includes a review of the premises, practitioner safeguarding knowledge and safe recruitment practices. Comprehensive feedback and a detailed report containing findings and recommendations are shared following the visit to support you to strengthen your existing safeguarding measures.
The audit is carried out by our experienced Early Years specialists.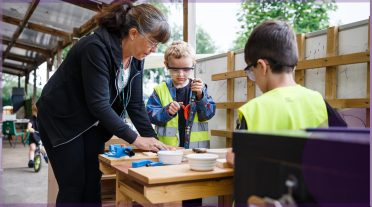 What benefits can I expect to see?
Our audit of your safeguarding practices allows you to get a thorough external view of how you meet the current legislation and expectations. Advice on what steps are required to make further improvements are shared.
---
Find out more
If you're interested in benchmarking your current safeguarding arrangements and would like to understand more about what your school or PVI setting does well and where you may be able to strengthen existing practice, please contact us. Contact our Early Years team today to find out how we can help you.