Published
07 November 2023

English working walls: How do they work?
At the end of the 2022/2023 academic year, nationally 71%  of key stage 2 pupils met or exceeded the expected standard in writing. Similarly, 60%  of KS1 pupils entered year 3 this September having demonstrated writing skills at the expected standard or above. It's evident that writing can be hard for children to master but it remains a vital life skill for effective communication. 
English lessons are always a hive of industry. Teachers and TAs actively inspire and support individuals or groups of pupils to write; pupils wrack their brains to utilise the recently learnt grammatical structure in their writing. Hard work is part and parcel of every writing lesson. However, it's not just the staff and pupils that can work to improve writing outcomes. Use of working walls to support English writing sequences is growing in implementation in schools. This is due to the prompts that these interactive displays provide pupils through supporting idea generation, vocabulary and grammatical structures. Essentially, the English working wall has the potential to act as a crucial scaffold for pupils to boost writing motivation and outcomes. 
Initial principles for working walls
Before delving into the features of English working walls, there are some key concepts to remember to ensure that they are utilised effectively within the classroom:
Working walls should be interactive. Resources on display are most effective when created and added to the wall within the English lesson and in conjunction with pupils. Pupils are more likely to understand and remember the purpose, use and application of each resource when they have been involved in its creation. 
Classroom working walls are limited on space. Therefore, anything featured on the wall must earn its place. Trying to squeeze too much information on the display boards will overwhelm pupils and reduce the likelihood of any of it being used. 
Working walls will begin with a relatively blank wall. Fear not! As lessons progress, the display will grow. A picture of the front cover of the chosen text and some helpful vocabulary cards may be a good starting point for the first lesson in a new writing sequence. A new topic should not begin with a completed wall as this is less likely to be utilised and instead is more likely to be treated as wallpaper by the pupils: attractive to look at but purely decoration. 
Position the working wall so that it is visually accessible for every pupil in the classroom. Placing the working wall near to the teacher is likely to ensure higher engagement with the resources when teaching and modelling. If the teacher routinely refers to the working wall when modelling the writing process, pupils are more likely to engage with the support available on display too. 
Ensure that resources can be seen by all pupils. Think about handwriting/font size and if all pupils can read the information on display. Similarly, think carefully before laminating items for display. Whilst laminating can be helpful when reusing resources, the plastic laminate sheeting can reflect classroom lights and cause glare for the seated pupils which renders the resource useless. If laminating is your preference, ensure that classroom routines and expectations encourage pupils to go closer to the working wall when they need to use it.
The answer is on the working wall
Now that the practicalities are in place and the perfect working wall location has been found, it's time to consider what to place on it. When planning the sequence of learning, building in opportunities in lessons to construct the resources will help with both pupil engagement with the display and teacher workload. 
As always, when deciding what earns a place on the display, be guided by the needs of the pupils. Prioritise the resources that will support all pupils to successfully apply the appropriate knowledge and skills in their learning. As a starting point, Joan Sedita's Writing Rope , inspired by Hollis Scarborough's Reading Rope , can help teachers to identify key areas to support writing outcomes. There are examples below of how to display useful information in response to pupils' possible queries when it comes to writing in English lessons. 
Some strands will require a larger presence on the working wall than others e.g. transcriptional elements may be supported through a visual reminder of a letter join formation on a separate board or in the margin of a pupil's book. Spelling can be aided through the modelled writing on display but also through table-top resources.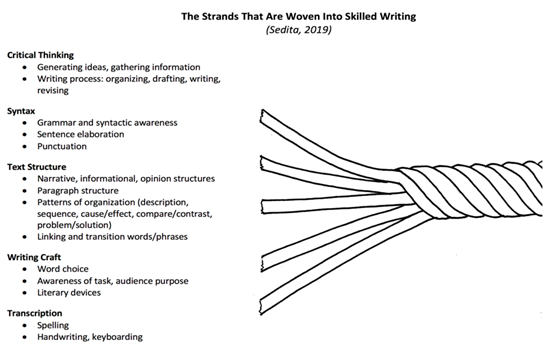 Writing is hard. Pupils will get stuck and need help. However, this support does not necessarily always need to be from an adult. Alongside classroom routines and expectations as recommended by the EEF, an effective working wall can help answer many of the children's questions throughout the writing process and support pupils to become independent problem solvers .
Who, what and why am I writing? 
Every pupil should know the purpose, audience and desired effect on their reader before they begin a writing task. Having a visual reminder of these on display can support the authorial choices that pupils make at each stage of the writing process across a series of writing lessons (idea generation, planning, drafting, editing, proofreading, and publishing). This can be achieved through pictorial signs e.g. emojis for effect on the reader so that space is maximised for the resources that support authorial craft.
What do I write about? 
As part of lesson discussion, a place to keep ideas and thoughts on display may be useful for pupils to fall back on when their creative juices run dry. In the planning stage, a useful activity to support idea generation is an 'ideas party' (explored by Ross Young and Anna Kettle at the Writing 4 Pleasure Centre ). This is where pupils contribute their ideas for a task on shared paper e.g. a story and outline of what might happen through notes or pictures. These could be added to the working wall when complete to offer pupils a stock of prepared ideas to take and make their own.
Modelled writing by the teacher is an effective tool to support pupils in their own writing tasks. Including these expert-models of utilising familiar or new sentence structures, grammatical features and patterns, will support pupils to utilise them in their own writing. 
Which words can I use? 
Vocabulary is often a good starting point for a working wall. In their reading as part of the writing unit, pupils will encounter new tier 2 and possibly tier 3 words. With limited space, try to prioritise words for display that pupils might reuse in their own writing (usually the tier 2 words) and/or words that pupils request to use. 
Try to ensure that the word's definition is on display in addition to the word itself. Displaying the word alone will aid pupils' spelling but does not necessarily encourage pupils to understand and utilise that word appropriately in their writing. 
If space is plentiful, including one or two words in an example sentence (or sentences depending on how many alternative uses it might have) will model to pupils how they could use the word in their own writing and to what effect. This will also support the application of spelling rules as suffixes are applied to suit the sentence. 
Shades of meaning or zones of relevance activities could be added to the display once completed to aid word choice and impact.
Which features or grammar patterns do I need to include? 
Like vocabulary, having reminders of grammatical features or patterns will support pupils to include these in their own writing. Explain the 'why' as well as the 'what' the grammar does to support pupils' authorial choices as this may help pupils to choose the grammatical patterns that support their desired effect on the reader. 
Rather than describing the generic role of conjunctions and listing them on the display, share an example of how conjunction choice can affect the meaning in a sentence. For example:
Anna was unable to stop and the rain continued falling.
Anna was unable to stop so the rain continued falling. 
Record pupils' comparisons and place these beside the example sentences. Pupils then have two model sentences that employ the grammatical feature to choose and construct their own sentences to similar effect. This may require teachers to plan the working wall to feature a small number of grammatical features but examples that the children will rely on for their own writing.
What goes up must come down 
An important aspect to remember is that working walls are dynamic and must change to meet the needs of the pupils. A resource that went up four lessons ago may no longer be relevant if learning has progressed past that point. Taking resources off the working wall can free up much-needed space for items that offer relevant scaffolding and support to pupils.
The key to working wall success is that pupils utilise the resource to support their writing at multiple stages in the writing process. Once the working wall becomes wallpaper to pupils, it's not doing its job. Keep refreshing the wall actively with the pupils and you provide a scaffold that can fit seamlessly into the high-quality teaching that should already be taking place.
We would love to see some examples of English working walls from your classroom. Please join our HFL Primary English Facebook page to send us or tag us in your working walls pictures @HertsEnglish on X/Twitter. 
---
If you are looking to enhance the teaching of writing in your school or setting, or are keen for some writing inspiration, then do join us at our upcoming conference 'My Voice, My Writing: Empowering children to be great writers' on 31st January 2024.